Cuff Bracelet:
Similar to the cuff ring, this bracelet is made from etched nickel silver. It is solid but flexible enough to allow for adjustability, and can be embellished with additional charms.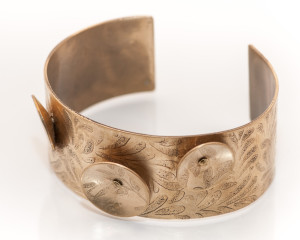 Thick Leather Bracelet:
This leather and metal bracelet features etched nickel silver, attached to the leather cuff. Silver and gold-toned embellishments adorn the etched piece, and etched nickel silver is used to create a hook-and-loop clasp.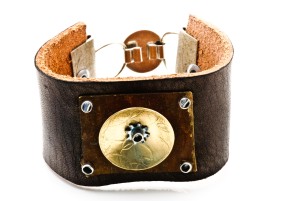 Rusted Leather Bracelet:
This leather and metal cuff features a rusted brass base piece, which has been riveted to the cuff. A cupped disc of etched bass sits on top, and is decorated with embellishments.
Wrapped Leather Bracelet:
This bracelet features an etched nickel silver hook clasp, joining two pieces of decorative metal to close the bracelet. The bracelet is made from soft leather, and is meant to be wrapped around the wrist twice.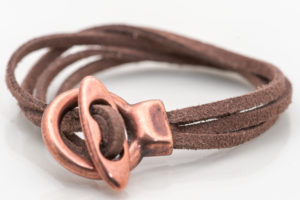 Embellished Cuff Bracelet:
These bracelets are made from nickel silver and copper, and are embellished with various floral-shaped and round-disc charms. The bracelets can be made from nickel silver (silver tone), copper (copper tone), or red brass (gold tone), and can be etched with any design and topped with any type of charm. These are a slimmer version of the thick etched cuff bracelet.
Three Button Wrap Bracelet – Bracelets made with a variety of leather colors are adorned 
with three buttons and a loop closure. Can be made with brass, copper and nickel silver metals. 
Leather Embellished Bracelets:
Etched metal charms top soft, supplies leather, and includes toggle clasp closures. These bracelets can be made in any color of leather (black, gray, green, various shades of brown), and can be topped with nickel silver, copper or red brass charms.
Etched ID Bracelet:
This bracelet style includes an etched metal focal charm, and two different types of chain extending to a toggle or lobster claw clasp. This bracelet can be made in nickel silver, copper or red brass, and can include any variety of chain and any shape of charm.
Steampunk Bracelets:
These bracelets are one of a kind – no two are alike! Each bracelet is a base of link and pad chain, embellished with etched discs, charms, bead caps, and other decorative elements. Bracelets will be in silver tone, copper, gun metal or gold tone, and will feature the same tone or contrasting embellishments.
Embellished Leather Bracelet:
This bracelet is made from an etched metal hoop which links around an etched metal charm than can be plain or embellished. Copper or red brass can be used in this bracelet, along with any type or color of leather.
Large Link Etched Bracelet:
This bracelet is made from larger charms of etched metal, linked together with jump rings and embellished with various types of charms. The bracelet can be made to have more of a steampunk-type theme, or it can be more organic and natural with rounder charms and floral or leaf patterns. The bracelet can be made from copper, red brass, or nickel silver,  or sterling silver can be used if desired.
Gourd and metal bracelet – Pieces of decorative gourd have been lashed to textured or etched metal. Decorative chain and a toggle clasp complete this bracelet design.